Quality of Life,
Polk County North Carolina
Polk County offers an exceptional quality of life that contributes to a highly desirable place for business to attract and keep skilled workers with:
A moderate climate
Culturally rich community in history and the arts
World class outdoor activities
Wide range of recreational opportunities for all interests
Quality health care
Low construction cost
Low cost of living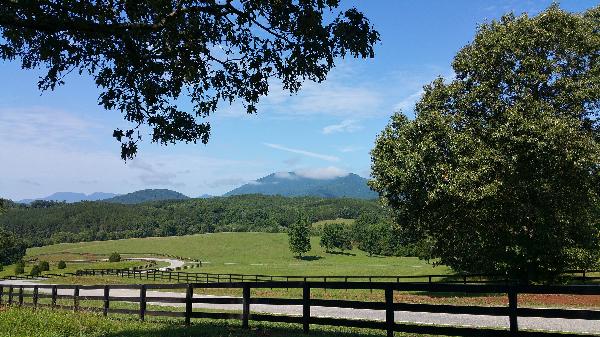 | | Polk County, NC | North Carolina | United States |
| --- | --- | --- | --- |
| Overall | 94.5 | 90.6 | 100 |
| Grocery | 99.2 | 96.5 | 100 |
| Health | 115.4 | 107.5 | 100 |
| Housing | 93.5 | 81 | 100 |
| Utilities | 94.7 | 99.2 | 100 |
Carolina Foothills Chamber of Commerce
The Chamber is committed to ensuring continued economic support of Polk County and Landrum, including quality education, quality health care, our equestrian tradition, and a healthy business climate. The Chamber is also committed to encouraging new businesses and industries to locate in the Carolina Foothills region and enhancing the quality of life experienced by all our citizens.
The Carolina Foothills Chamber is involved with many supporting organizations in western North Carolina and upstate South Carolina. One of our many goals and objectives is to attract visitors who will truly appreciate what this area has to offer and whose interests in relocating here include a strong desire to participate in and contribute to the community.
Source: https://carolinafoothillschamber.com/about-the-carolina-foothills-chamber-of-commerce/
Sports & Recreation
Outdoors sports and recreation are an integral part of Polk County's lifestyle. Sports activities span the spectrum from the mild (tennis, golf, biking, hiking, youth school sports programs) to the extreme (kayaking, mountain climbing, mountain biking, equestrian sports). County sponsored ball parks, trails, pool and tennis courts offer residents many opportunities to get active.
Arts & Culture
From fine arts to crafts, touring musicians to local bands, galleries to artist studios, community theater to chorus, Polk County provides an array of artistic and cultural entertainment. The area events calendar is full of happenings that expand perspectives, tell stories, join people with shared interests and most of all, entertain.
Religion
There are more than 55 religious congregations in Polk County representing a variety of Protestant, Catholic and other beliefs. All major protestant religions are represented with the largest number of adherents belonging to the Southern Baptist Convention, the United Methodist Church and the Evangelical Lutheran Church in America.
Retail & Shopping
Columbus, Saluda, and Tryon town centers offer a variety of retail outlets. Grocery stores (Food Lion and IGA), hardware, health food, appliance, flooring, clothing boutiques, gift and drug stores all service resident needs. More expansive shopping, including high-end outlets can be found in nearby retail centers of Spartanburg, Hendersonville, Forest City, and Asheville.
Restaurants
Polk County's more than 60 locally-owned restaurants, many on our small-town main streets, represent an extremely wide variety to suit any taste and budget. Fast food restaurants are available near exits. The First Peak Visitor Center maintains an active brochure listing of all restaurants in Polk County.
Housing Availability & Costs
Polk County offers a wide range of housing choices, from newly developed subdivisions, townhomes, and condominiums to historic homes to apartments. According to the Sperling's bestplaces.net, the median cost of a single-family home in 2019 was $216,200. 56.1% (2019) of the population owned their homes. Home appreciation costs in 2019 were 6.2%.
Source:  https://www.bestplaces.net/housing/county/north_carolina/polk
Accommodations
Over 150 properties are available throughout Polk County, including a variety of hotels, motels, bed and breakfast/inns and an expanding array of vacation rentals.
Health Care
St. Luke's Hospital, Columbus, NC
Address: 101 Hospital Dr., Columbus, NC 28722
Source: https://www.saintlukeshospital.com/
Phone: 828-894-3311
For nearly a century, St. Luke's Hospital has been committed to high quality and excellence in care and service. Today the organization is made up of a team that provides a safe and compassionate environment for all those they serve. St. Luke's Hospital is an acute care inpatient and outpatient hospital system which includes several physician and other ambulatory care clinics. Most importantly, the healthcare network is served by approximately 300 dedicated employees, physicians and volunteers who partner together to improve the health of the communities located in the Carolina Foothills region.
St. Luke's Emergency Department
101 Hospital Drive
Columbus, NC 28722
828-894-3311
St. Luke's Hospital
101 Hospital Drive
Columbus, NC 28722
828-894-3311
Foothills Medical Associates
Primary Care Providers and Surgical Services
130 Forest Glen Road, Suite B
Columbus, NC 28722
828-894-5627
Foothills General Surgery
130 Forest Glen Road, Suite B
Columbus, NC 28722
828-894-5627
Saluda Family Medicine
1347 Ozone Drive, Suite 2
Saluda, NC 28773
828-749-0149
St. Luke's Cancer & Infusion Center
56 Hospital Drive, Building 4
Columbus, NC 28722
828-894-0111
Rosenberg Bone and Joint
89 W. Mills Street, Suite A
Columbus, NC 28722
828-894-3718
St. Luke's Pain Center
48 Hospital Drive, Suite 2A
Columbus, NC 28722
828-894-0978
Senior Life Solutions
50 Hospital Drive, Suite 2B
Columbus, NC 28722
828-894-9890
St. Luke's Urology Associates
54 Hospital Drive, Suite 3B
Columbus, NC 28722
828-894-3230
Why Polk County?
An area of rapidly increasing international attention. Part of the I-26 Asheville to Spartanburg corridor.
40% of the Greenville, SC BMW plant 65-mile radius local purchasing area.
In the center of the developing southeastern United States mega-region.
Access to major medical facilities located in Greenville, Spartanburg, Hendersonville, Fletcher, Brevard and Asheville.
One of the top school districts in North Carolina.
Early college program that offers college credit courses to high school students.
Low costs of living – housing, utilities, groceries, and transportation are all below the national average.
Low construction costs. Low crime.
Market access includes two close interstate systems.
Close proximity to three major airports.
Broadband infrastructure for advanced voice, data and video communications.
Home to the 2018 FEI World Equestrian Games.
Why North Carolina?
Source: https://www.nccommerce.com/business/why-north-carolina
#1 Best State for Business, Forbes 2018 (NC has been in the top five for 12 consecutive years).
#1 Top Competitive Sate for Business, Site Selection, 2018.
#1 Lowest State and Local Business Tax Burden, Ernst & Young, 2016.
#2 Lowest Business Costs, Forbes, 2016.
#3 Best State for Business, CNBC, 2019.
15% Lower Construction Costs in NC Metros vs. US Average, RSMeans Construction Cost Index, 2016.
North Carolina has a AAA bond rating.
North Carolina has 53 colleges and universities, including 17 public universities.
800,000+ students enroll at one of the state's 58 community college campuses each year.
Every NC resident lives within a 30-minute drive of a community college campus.
Fourth largest military presence in the nation.
Housing, utility, groceries and transportation all cost below the national average.
More than 100 community hospitals, in addition to the state's largest hospitals: Carolinas Medical Center and Duke University Medical Center.
Four international airports provide passenger service by major carriers to most locations throughout the U.S.
Charlotte touts the fifth-busiest airline hub in the US.
90,000+ miles of road make up the second-largest state-owned highway system in the U.S.
North Carolina boasts a 3,200 mile rail network coupled with the nation's second largest highway system.
North Carolina is a right-to-work state.
North Carolina enjoys a cost of living that's lower than the national average, coupled with a high personal satisfaction level.
North Carolina is home to some of the top medical facilities in the U.S., and health care here costs below the national average.
The University of North Carolina university system has 17 highly accredited campuses which offers advanced educational opportunities.